From Press Release:
30 November 2022 –  Independent games development studio 3DIVISION has today released Content Update #11 – Tram, Metro and Realistic Mode – for the Early Access version of Workers & Resources: Soviet Republic, the real-time soviet-themed city builder tycoon game set in an imaginary communist country in Eastern Europe.
Workers & Resources: Soviet Republic is the ultimate real-time soviet-themed city builder tycoon game. Construct your own republic and transform a poor country into a rich industrial superpower!
Content update #11 introduces new metro and tram transport infrastructure and the community-requested 'Realistic Mode', realistic borders and a new water erosion tool for the editor.
The community requested Realistic Mode will bring an additional difficulty level for players making the game more systematic and management heavy. Realistic mode will remove all options to purchase goods and vehicles inside facilities directly and remove the option to complete construction using money. This brings several new challenges for the planning process as every resource needs to be transported to your storage facilities from customs house at the border and every vehicle needs to be able to get to the depot from the border under its own power. There will be no sudden appearance of resources inside buildings and no magically appearing infrastructure or buildings. Of course, this mode will be optional as you really need to be very familiar with the game mechanics and be successful when starting a new Republic. Read more on Realistic Mode here.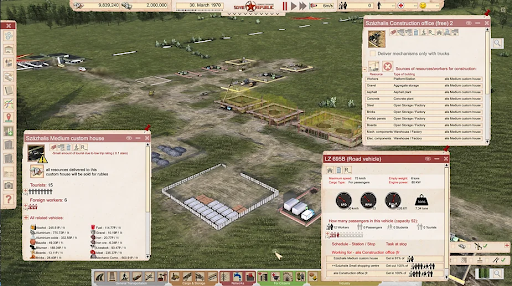 In addition to the Realistic Mode comes the new Realistic Borders update. Previously we only supported square borders, meaning your Republic was always square. The new Realistic Borders update allows you to edit your Republic's border adding a new level of realism. We have also developed the first map – Slovakia – using the new Realistic Borders feature to showcase what can be done in the editor. Read more about Realistic Borders and the Slovakia map here. We have also produced the new Water Erosion tool for the terrain editor which will change the random generated terrain into something more realistic. It can also be used to smooth out imported maps. Read more about the Water Erosion tool here.
Two of the key new improvements to your Republic's transport infrastructure are the Metro and Tram updates. We were able to create models for surface metro stations and a new surface metro and railway end station to enable you to plan your public transport network easier. There will be two surface metro stations with varied sizes available as well as an end station which you will be able to use for metro or normal trains. Read more on the metro update here.
We have also been working on the basic structures required for trams to operate. For this update, we have added new tram stops, one bigger and one smaller as well as a new way to connect between tramrail road and rails. Additionally, we updated the pantographs of trams to make them properly connect to overhead wires on normal electrified railroads and tramrail roads. Read more about trams here.
Content Update #11 features: 
Build underground stations and tracks with the new Metro infrastructure system.
Trams infrastructure with new tram stops and connection systems.
Super realistic mode
Water erosion for terrain editor (for faster smoothing of terrain)
Realistic republic borders are now implemented.
New Slovakia map with realistic borders
Various other small gameplay improvements and tweaks.
Workers & Resources: Soviet Republic game features:
Manage all aspects of your own republic with a planned economy, including mining resources, manufacturing goods, construction, investments, and citizens too.
Create your own industrial complexes with loading and unloading stations, storage, warehouses, and factories.
Build the infrastructure and manage its traffic, including roads, railways, sidewalks, conveyors, wiring, and pipelines. Wisely place and connect factories, houses and warehouses, and make the most efficient connections.
Plan and build the living areas with everything your citizens may need to live their happy life, such as playgrounds, cinemas, taverns, and shops.
Send your citizens to the mine to get coal, iron and other natural resources; or send them to the fields to pick up the crops; or take them to factories to produce manufactured goods.
Sell and purchase resources and goods from western countries or other soviet countries to get dollars or rubles and buy the products or resources you need … or invest in new infrastructure or buildings.
Enjoy authentic soviet buildings and vehicles, as well as realistic landscapes of the 60's to the 90's.
Play the way you want! You can focus on getting natural resources or products and trade them for money; or you can build a self-sufficient republic; or you can just use the easy sandbox mode with unlimited money/resources and just enjoy building something live.
Prices of resources on the global market are changing over time as you play –one day you can sell or purchase steel for $100 per ton, but in a few months the cost can rise to $200 or decrease to $50. The price of everything is connected to the cost of work and resources.
Workers & Resources: Soviet Republic was successfully launched on Steam Access in March 2019 and will continue to receive regular content updates throughout the Early Access period leading to the full launch in 2023.
Workers & Resources: Soviet Republic is available now on Steam Access. For more information, check out the official website at https://www.sovietrepublic.net/ or via the game's social channels – Facebook, Twitter and VK
###