You may be looking at the screen shots of this game thinking "Not another indie game using 8-bit art" but dismissing it like that is just hurting yourself. Yacht Club games nailed it with Shovel Knight. Invoking the style of the 2nd and 3rd generation of consoles (NES, SNES, Genesis), Shovel Knight brings you to the simpler yet harder days of gaming where levels were hard and graphics blocky.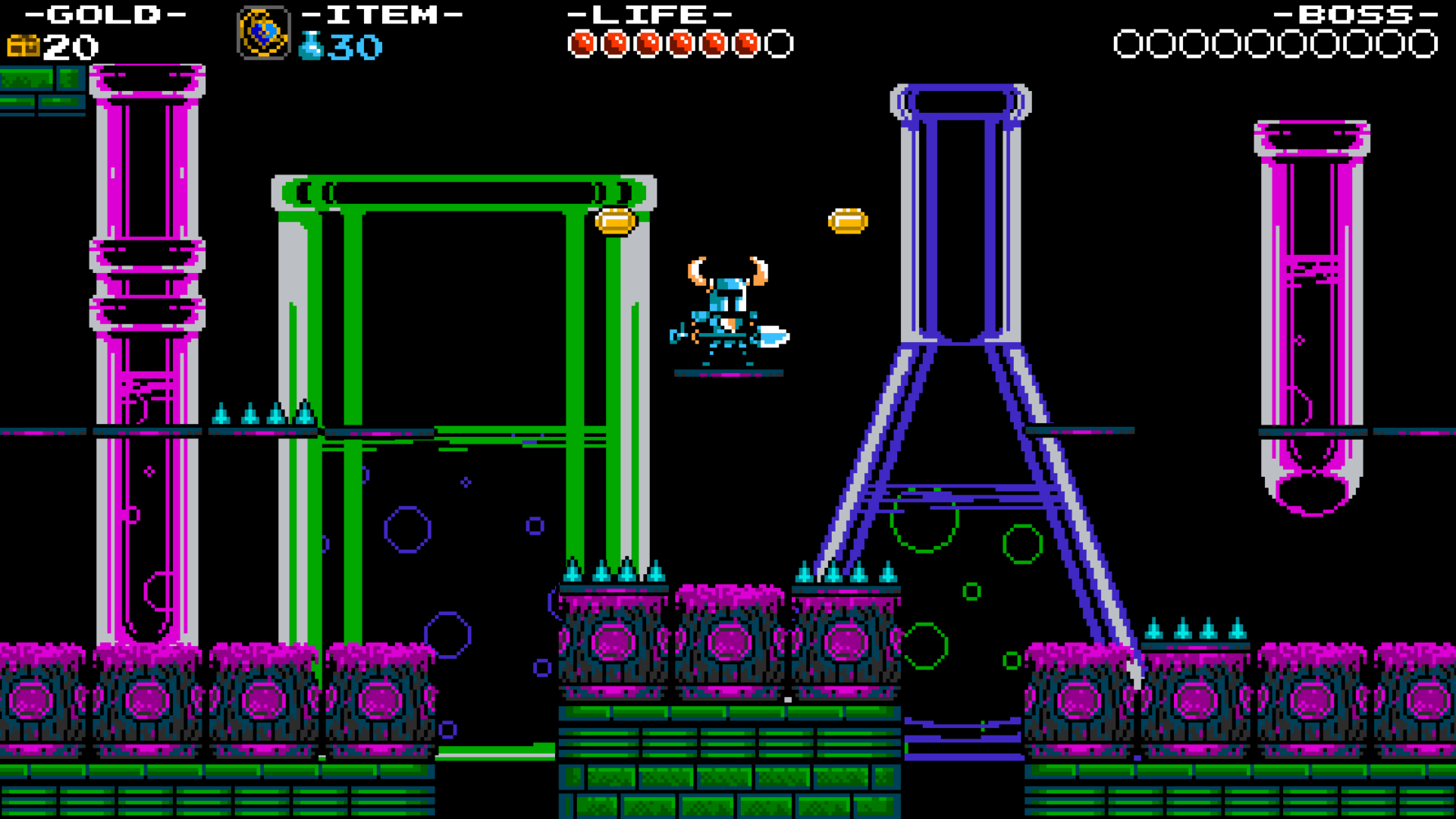 Nearly a year after its release (and review from our very own Scott Ellison II), the PlayStation 4 and Xbox One have received their taste of the shovel wielding cerulean knight. Everything here is in tact and looks/feels just as good as its previous releases. Scott nailed the review on the head with his so I won't sit here and re-iterate everything he said, I will go over what's to be expected on the console releases though.
On the Xbox One, Yacht Club included, get this, a Battletoads fight. I won't tell you how to get there, but without the internet showing you this two part secret, there's a high probability you'd miss it. Once you find it though, you're in for a treat as the game recreates the second and third levels from the Battletoads game in Shovel Knight style. Just like other levels in Shovel Knight and true to the Battletoads legacy, this section is tough. Took a few retries to learn the patterns but it was an overall a blast. My 9 year old nephew, who's never heard of the Battletoads before, thought they were so cool and wanted to play this section. He ended up asking everyone in the family if they had ever played Battletoads and how he could play. Hey Microsoft, you might want to get on that remake, stat.
The review copy I got for the Xbox One was so much fun and I had heard there was PS4 exclusive content as well, so I took my PlayStation wallet and threw money at it to get that version too. Once downloaded, I found out that you're able to download and play the game with cross-save between the PS4, PS3, and Vita. The swapping between platforms is nearly seamless as I was able to go from PS4 to Vita and back with ease. Just choose the upload save option from the version you're playing then pull down that save once you boot the game up on the other platform. I was unable to test the PS3 version but would have to assume it would function similarly.
There's also PlayStation-exclusive content where our hero gets into a battle with Kratos, the God of War. They hid this gem in the same location they did on The Xbox One so the finding it was pretty simple. The battle in itself is a three part boss fight that ends with you acquiring an armor set that gives you Kratos' air attacks and a flaming shovel, similar to the Blades of Chaos. It's actually the armor I used to finish the game with on PS4. If you wanted to know which version had the better content, I'd go with the Xbox One's Battletoads fight as it was unlike anything else in the game and played homage to the classic beat'em up very well.
The game plays well too, no matter which platform you choose to play on. My preference was the PS4 where I enjoyed using the Directional Pad (D-Pad) there more than the Xbox One's. The game ran smoothly on both consoles and was a flawless experience from a performance perspective, I never ran into any glitches or hiccups while using either version.
Shovel Knight remains one of the best action platformers of this generation of consoles. The feel is very nostalgic, which is a throwback to an age of gaming that has slipped away with the newer technology and mechanics these days. The soundtrack is one of my favorite aspects of the game, I found myself humming along to the themes hours after playing and even my own brother who was only in the same room playing on his phone was starting to hum the songs aloud. Shovel Knight is a fun, tough, and an overall fantastic game that should be in everyone's digital collection no matter the platform.
A Xbox One code was provided by the developer for review purposes