KT Racing have outdone themselves with WRC 9 FIA World Rally Championship. The highlights are the challenge mode and new rally stages for the 2020 season, while the lowlights are its bugs. You'll find a lot of similarities between this year and last year's game, but the improvements made to every aspect of this game is unmistakable. Simply put, WRC 9 is the best one yet, and an upgrade in every sense of the word.
Judging by the size of the boxes on the main menu, KT Racing wants you to spend the bulk of your time with the career mode. In it you'll take on both manager and drivers duties of building up a team, as well as driving for the team. You're given the choice to start at the bottom with Junior WRC or jump ahead to WRC3. Choose one of three teams to sign with, where the offers are based on your previous performance. And from there you'll have to maintain a positive manufacturer reputation by completing seasonal and team objectives, and performing well in rally stages, events, and the overall championship. While a lot of this doesn't differ from how it worked WRC 8, there's refinements to the whole experience. You can now upgrade your overall team, and there's more events to choose from. As you race, you'll be earning experience. These points can be used for Research & Development to upgrade different elements of your team. Everything you do feels like it is in parity with what real WRC teams are doing.
If you're the "just the driving, please" type, then Season mode is for you. You'll have a similar choice between joining a Junior WRC or WRC3 team. You don't have to be concerned with finances, team members, or anything like that, it'll send you across the globe to partake in rally events from the real 2020 season, though that has been pruned rather extensively in real life. In WRC 9, you'll have the full calendar of events to race through, as if there wasn't a global pandemic impacting it.
You'll find three new countries to hoon around in, like the tight forests and streets of Japan, the wide open roads of Kenya, and the sheer cliffs of New Zealand. While the game resembles the authenticity of WRC to the fullest, you are able to take out legendary cars to experience some classic rally anytime you wish. With over 100 stages, there's always something to do, to be able to recreate your favorite moments in rally. The game has a neat showcase mode that lets you select a car, and cycle through different modes of weather, and see what the game engine can do. It's a non-functional part of the game, but really great to look at or leave up if you have to step away.
There's been work done to WRC 9's handling, suspension, and more. And you really feel it. On wide turns I can do a Scandanavian flick and see the body roll and the weight transfer smooth as I slide through a turn. On hairpins, when I pull the handbrake, I see the violent shift in weight and hear the tires lock up. KT Racing has honed in on the smallest details, but. There's also been work to the game's sound. The co-driver sounds like they're actually on a radio communicating with you. And even snow crackles as you roll over it, slowing down to make a corner. In tunnels and high-walled areas, echoes are prevalent and realistic.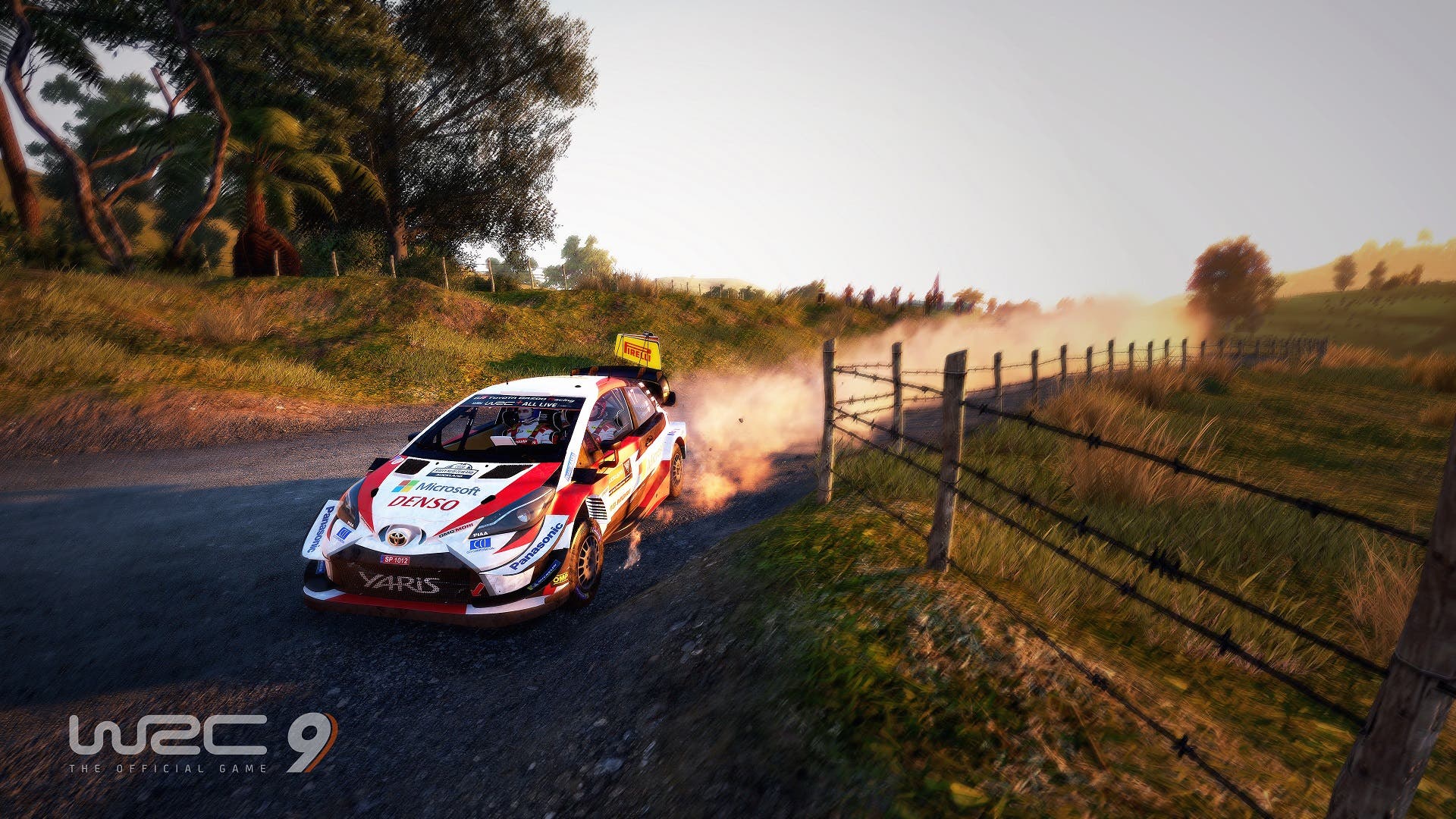 There's a new challenge mode which takes a lot of the types you'll find within the career mode. As an owner, you'll choose whether you train or take part in special events. All 50 of them are laid out here for you to perform time trials on closed tracks, or deal with an ever-declining durability of your parts to get across the finish line to receive a gold, silver, or bronze medal. My continuing favorite is to race in extreme condition races, where your vehicle is badly damaged. Lastly, you'll be able to race legendary cars from rally's past. It's an honestly good mode that shouldn't be overlooked.
Unlike WRC 8 from last year, online multiplayer is available right away, and can participate in the esports element. There's daily challenges to compete in for best times and bragging rights, and are a lot of fun to throw yourself into a challenging event with a random event and conditions. New this year are clubs, and you can join or create one. They are a bit lackluster, in creating my own, I wasn't given the option to name it or add any details other than my country and whether the club was open or would require invites. It's odd how featureless it is for customization, but I'm glad it exists. Because it's here you can create custom championships for your club to partake in, and it's something that has legs.
Unfortunately, WRC 9 has its fair share of bugs. From simple things like trees clipping through the road, engine noise during acceleration just go silent, or not being able to fully exit from a completed season despite pressing the right button; to more problematic ones like the game crashing to desktop if you ALT + TAB away.
Editor's Note: The game was played using the WRC 9 "review" build which should be the final, shipping version of the game. So there is a potential that these'll either be fixed day one or in an upcoming patch after the game is out.
Thankfully, WRC 9 boasts gorgeous vistas nearly at all times. Some locations look better than others, but it depends on the time and day. The global illumination is wonderful, casting shadows in heavily wooded areas, and when you leave them, you're able to bask in the sunlight. Whether you turn your headlights off, or they get damaged from a poorly timed stop, it's absolutely petrifying when it's the reality of just you and the darkness. Fans will light up flares and bonfires for illumination and warmth, and it's got a real cozy feel to it. The game's weather deserves a very special shoutout. Introduced last year, the game includes an updated dynamic weather system where it can be dry then wet, or the inverse. The mix of weather will leave puddles on the ground, and splashing through them affects traction and trajectory. The way the rain beads on your car, and even splashes onto the chase camera looks really good. Once the sun comes out, puddles and wet areas slowly go away. The game is visually striking, just on every level.
My PC Specs:

– Microsoft Windows 10 Pro
– Intel Core i9 9900K @ 5Ghz (Turbo)
– Corsair H115i RGB PLATINUM 97 CFM Liquid CPU Cooler
– Corsair Vengeance RGB Pro 32 GB (2 x 16 GB) DDR4-3200 Memory
– EVGA GeForce RTX 2080 Ti 11 GB XC ULTRA GAMING
– Seagate FireCuda SSD (500GB)
– Seagate BarraCuda SSD (1TB / 2TB)
– Logitech G27 with Pedals and Shifter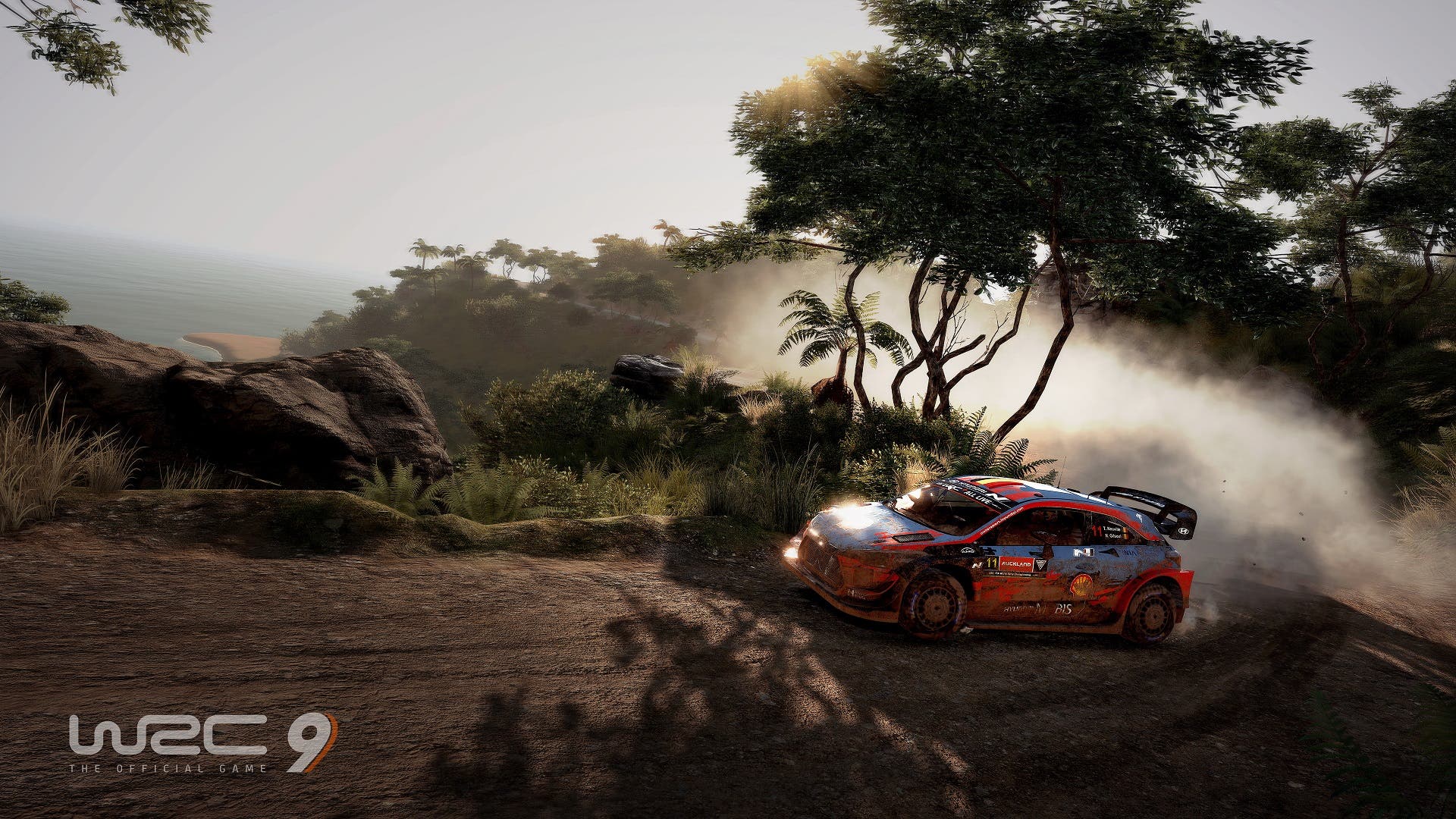 WRC 9 is the fully realized game that KT Racing has been building towards all these years. And it being so good sets up both the already announced WRC 10 and WRC 11 with incredible foundations to work from and build upon. It has some persistent and pesky bugs, but they should be ironed out. Future updates will include new cars and multiplayer where you can be the co-driver giving pacenotes, all for free. This is a richer and fuller experience over WRC 8 in every way. WRC 9 is not only the best WRC game to-date, but one of the best rally simulations to exist.
An Epic Games Store code was provided in advance by the publisher for review purposes