I think it's finally happened, I'm in love with a headset that doesn't have me tethered to a mix amp or wires, and ROCCAT makes a very compelling argument with the Syn Max Air. It's a powerful headset where the audio is the forefront of what it does best, providing an excellent soundscape in addition to long-lasting comfort. The ROCCAT Syn Max Air has a lot to offer for the price that'll best its rivals in every category. ROCCAT is killing it with their hardware releases this year, and the Syn Max Air is simply maximum enjoyment for your ears.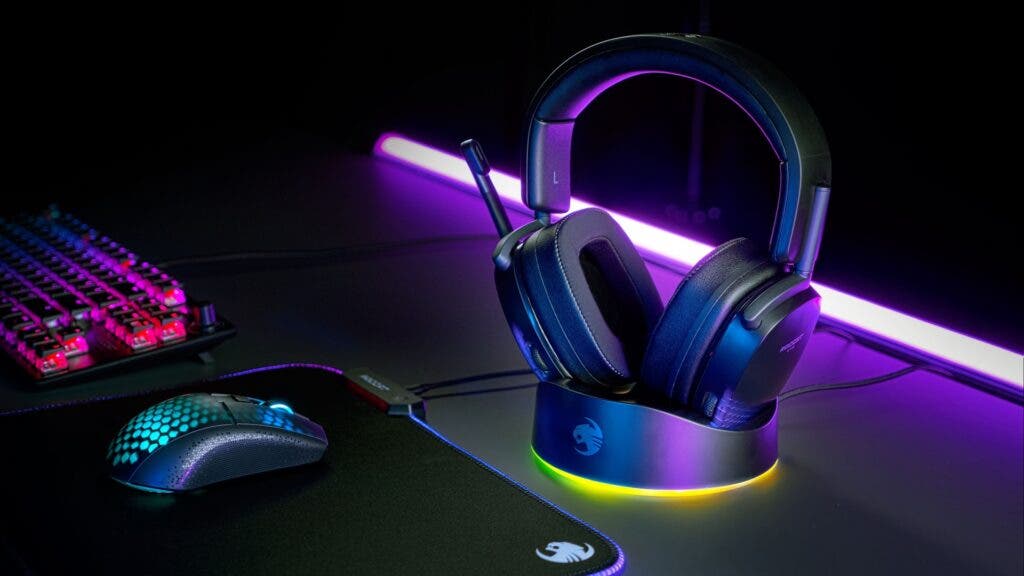 This is a PC gaming headset that also works on PlayStation 4, PlayStation 5, and Switch. The Syn Max Air is encased inside a massive box, for good reason, but it's intimidating to start with. Once you peel away the stickers, it begins to feel like you're unboxing something that's limited edition, as if it's a 1 in 500 item. The presentation and feel is very special, and the Syn Max Air is absolutely a special gaming headset.
By default the headset does wireless 3D audio, which is boasted by ROCCAT's "Stellar Wireless" technology. This uninterrupted 2.4GHz signal is impressive. There's no USB dongle, rather a charging dock with RGB to match all your other peripherals. This is done in a myriad of ways: First there's the 50mm nano clear drivers to power the vast audio stage. Then it utilizes Turtle Beach technology for things like Superhuman Hearing and other surround sound features. It all just does its magic without any tweaking, adjustments, or equalizer tuning. It's worth noting that this headset is loud. Under normal conditions I had this at 40% volume for music to games, and on YouTube videos would end up lowering it to about 30% just because of how clear and crisp it can get. My daily drivers up until this point have been the 2019 generation of the Astro A40, and while they have 40mm drivers, wired, and are aging; these just absolutely blow them out the water with amazing audio.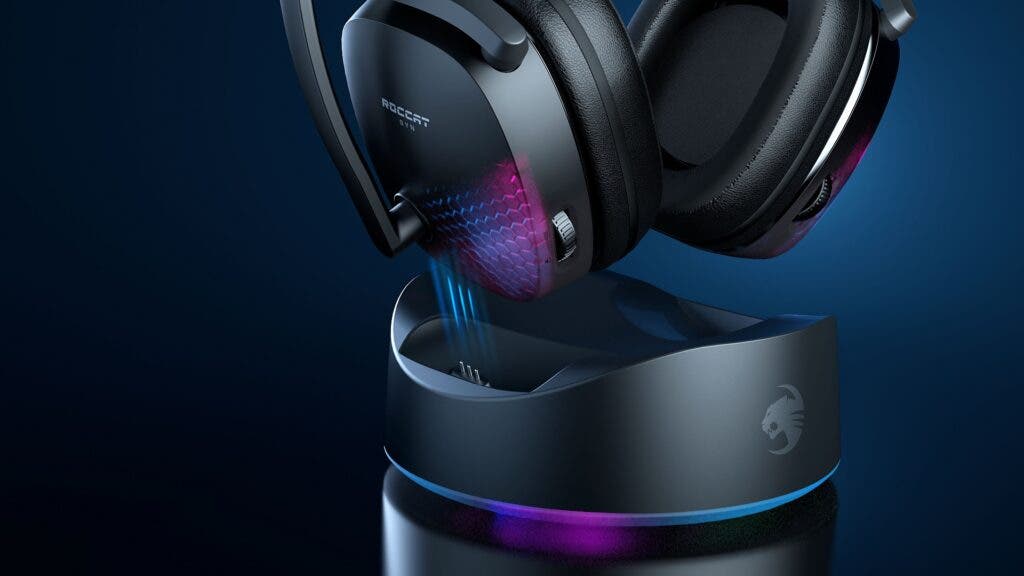 I couldn't tolerate the ROCCAT Syn Pro Air's last year, they were constricting, and actually hurt to wear, despite them being glasses-friendly. It seems ROCCAT took the compliments to heart, because the Syn Max Air are all about comfort, and I've had no pain after wearing them for hours on end. They're a bit snug or tight, but a near-perfect fit and live up to the fact that they are glasses-friendly "ProSpecs" standard they tout. The earcups are also comfort around the neck as you can swivel them to fold flat for breaks or conversation. The earcups have special features, cooling gel so your ears don't get gross and sweaty, to which I can affirm. And lastly they have memory foam so they contour to your ears that reinforce the comfort (synonym please).
While I don't use a headset's microphone anymore, I'm always a fan of the flip-to-mute mic. It makes you feel like a badass, and it's so easy to know what state your microphone is in without having to look at some LED or setting to confirm. I tend not to use the audio controls on a headset directly, but what's here is easy to remember. The left side is dedicated to power and volume, whereas the right is a customizable dial that I use to change how much game or chat audio I have in the mix. This headset is long-lasting, a 16-hour battery life which doesn't disappoint or feel too short. If you forget to charge them, the rapid charge technology can make 15 minutes of your time return 3 hours of wireless gaming back to you.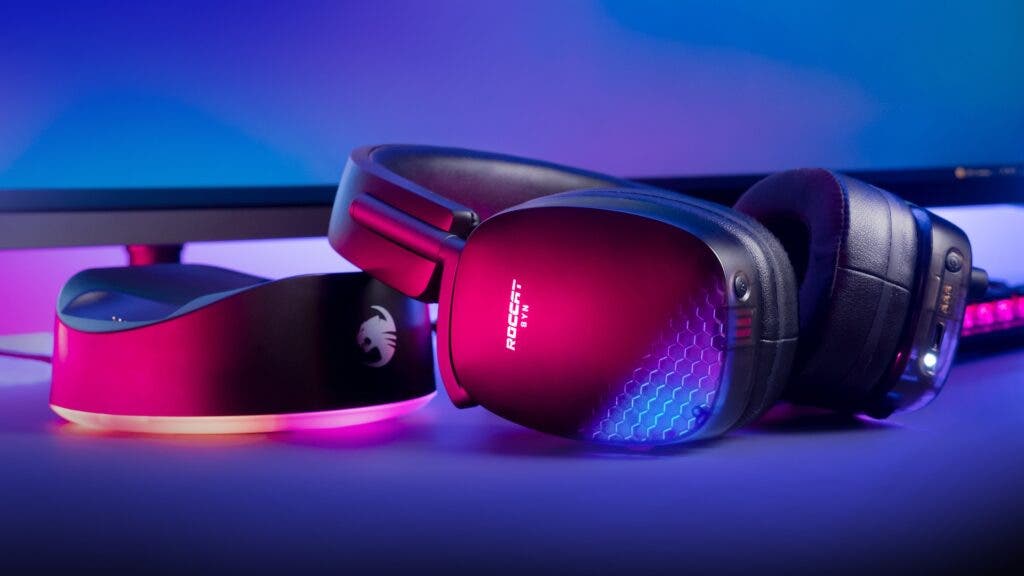 Games
The recently released Early Access title Marauders is a great way to test this headset. The game is all about audio, where respect is given to the developers to prioritize footstep audio. While I was able to pinpoint direction and distance before, the clarity I get from this headset has made me more accurate and prepared for what's coming. It's so satisfying to translate this audio into an advantage, especially if I turn on the "Superhuman Hearing" feature, to squeak out even more of a bonus. Then you have something like Battlefield 2042 benefits here, as I was able to detect enemies based on footsteps, gunshots, and voice chatter to hunt them down. While the footsteps could be heard clearly or boosted, even Overwatch 2 saw enhancements of just sounding incredible as a gaming experience. Now, I couldn't test audio without pulling up Forza Horizon 5, everything from exotics to muscle to tuner cars are here. And hearing more defined exhaust notes and internal motor changes felt more realistic.
Music
From Metallica to The Midnight, this headset offers such an excellent way to enjoy music in a new way. The Syn Max Air is so full of bass, I kept thinking that my external speakers were on, and was double-checking every few minutes. It hits all the right notes; from lows to highs, I can hear it all like I'm hearing for the first time. I even enabled the Waves 3D surround sound boosting, which amplified all sound in the right ways for an immersive auditory adventure.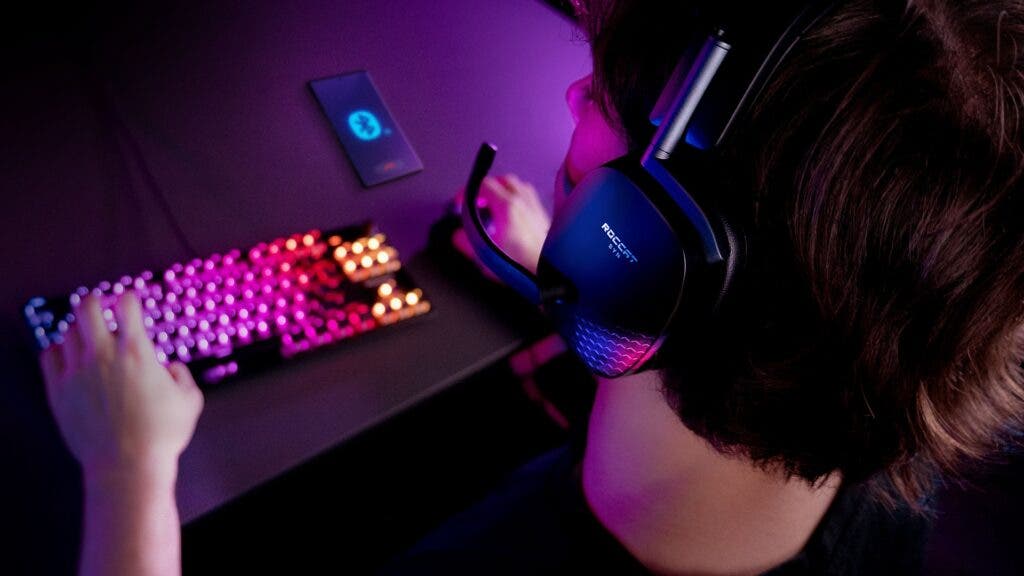 Software – Swarm
Editor's Note: This section of the review is based on the v1.0012 firmware update and driver v1.26, which corrects issues introduced by a recent Windows 11 update
Before using the headset, I had to use the dedicated USB cable for the first-time updates. After that, I was able to use it wirelessly without incident or headaches. I find it interesting that the Syn Max Air does not use the Neon software like I had to with the Pro Air. I find this to be a major positive only need to use Swarm. It's a far more mature software product, and works reliably.
You'll be spending a lot of time with the settings, as it has a lot to offer and fine-tune for the types of things you'll be doing with this headset. The first thing to talk about is the Spatializer, a simple toggle will make it so you have some more directionality with the audio you're currently hearing. The second thing is the aforementioned Waves 3D, you can use one of three different presets: Games, Music, and Movies. It'll create a 3D sound stage to experience any of them with a focus on everything that's important, enhancing them all. The Turtle Beach and ROCCAT integration is benefitted greatly with the "Superhuman Hearing" technology. It's installed and embedded into ROCCAT Swarm so that you can choose to amplify your audio further with the choice between Legacy, Footstep Boost, and Gunshots Boost audio. Each one has a different focus, but will greatly enhance gunshots, reloads, and vehicles to give you the best advantage it can. It's a really strong piece of software that doesn't feel restrictive.
ROCCAT tends to be the highest costing among competing headsets, but this time the Syn Max Air is aggressively priced to outshine everything else on the market. I do find these to be a snug fit, but they never hurt to wear and held to the promise of being glasses-friendly. Out-of-the-box this is a killer gaming headset, but do some minor tweaking thanks to its customization and you've got an unbeatable tour-de-force of sound. If there's one new headset you get this year, let it be the ROCCAT Syn Max Air, you won't regret it.
The Syn Max Air was provided in advance by ROCCAT for review purposes