SteelSeries is one of the leading companies in gaming hardware, and the Apex Pro TKL is another reason why that is. There's many steps forward, with a focus on the new OmniPoint 2.0 switches and dual-actuation, this is an absolute game changer for a keyboard feature. There's a lot of cool things going on underneath its aircraft-grade steel, but it will become apparent not long after using it. It's a tactile, responsive, and colorful keyboard. While the SteelSeries Apex Pro TKL (2023) is not a full-size keyboard, but is full of features you soon won't live without.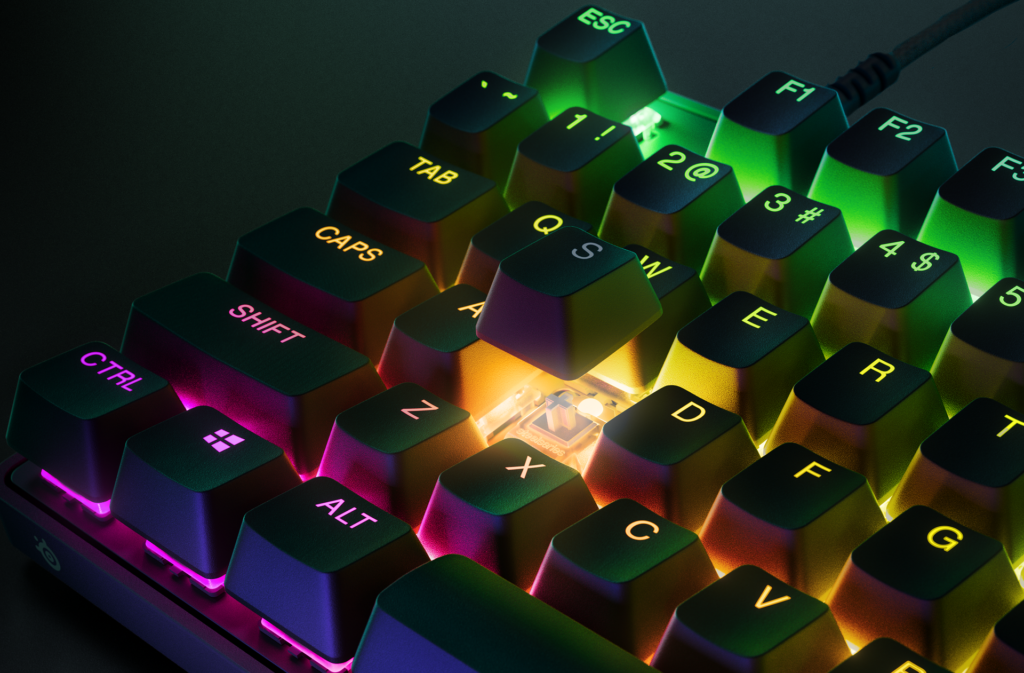 It's been a while since I last looked at SteelSeries for review, the last of which also being an Apex keyboard back in 2015. I happen to have the 2019 model of the Apex Pro TKL, and there's some notable differences if you're looking to upgrade. There's no longer a USB passthrough port that was illuminated in a bright white shroud. There aren't any dedicated macro keys located on the extra key section anymore. Some improvements is that the OLED panel for displaying information is slightly bigger, but looks functionally the same in terms of detail. This is a Ten Keyless (TKL) keyboard, meaning the keypad and other numerical and mathematical keys are not present, giving it a slimmer look and presentation. It's worth noting that there is a Wireless version of the same TKL design, but they are identical with the exception of that one having a rechargeable battery and costing $60 more. The wired version is the better buy subjectively, and there's so much more to be excited about.
From the moment I went to plug in the Apex Pro TKL (2023), I noticed some remarkable changes. The keyboard now uses a single USB-C to USB-A cable, which feels less demanding over the dual-USB connectors of the past (the aforementioned USB passthrough). It's also nice to be able to unplug the keyboard at the keyboard, rather than getting up to unplug it from the back of the PC. Another instant difference is the feel of the keys themselves, there's a texture when your fingertips make any individual press. This is a huge enhancement over the 2019 version that felt slippery or not as grippy. Once again, the Apex Pro TKL uses a magnetic wrist rest, which aligns once you use one of the two positions of the rubberized feet for elevating the keyboard. Though shortly after using the wrist rest, I noticed that it's a dust and hair magnet, so be prepared to regularly wipe it down. There's pros and cons for this year's revision, but they weigh more on the positive side.
SteelSeries bridges the gap between analog and digital controls. In most cases, a keyboard switch is either considered pressed, or not. When comparing this to an analog joystick on a controller, you can control a character's movement speed by how much or little you push or pull the stick in a particular direction. SteelSeries' answer to that is further exemplified with its proprietary OmniPoint 2.0 switches. In combination with its companion software, you can control actuation adjustments where a mid-level press can walk, and then a full press of the same key is a faster walk or run. This essentially negates the need for the Shift key to sprint in most games, making it far more accessible. I'd also compare this to be similar to how the triggers behave on the DualSense controller on a PlayStation 5. Save for the rumble aspect – though I wouldn't put it past SteelSeries to do in a future iteration of this series of keyboard. The most impressive aspect, is that you can configure this actuation per key.
Using this keyboard for both gaming and writing, makes for two sides of the same coin. The keys themselves are not loud, by design, though when I'm typing for writing it lacks audible feedback, and presses often feel spongey. On the lflip side, when when I'm gaming, it all feels sublime and responsive in all the ways I would want. I'm not sure why they feel so different in competing activities, but it excels when gaming, and that's where it counts. The SteelSeries key found on the keyboard is a function key that opens up new actions. You can lock the Windows key from bringing up the Start menu, setting keyboard brightness, switch profiles, or recording a macro. In using the keyboard, there was a quiet and occasional squeak, but thankfully that dissipated the more I used it.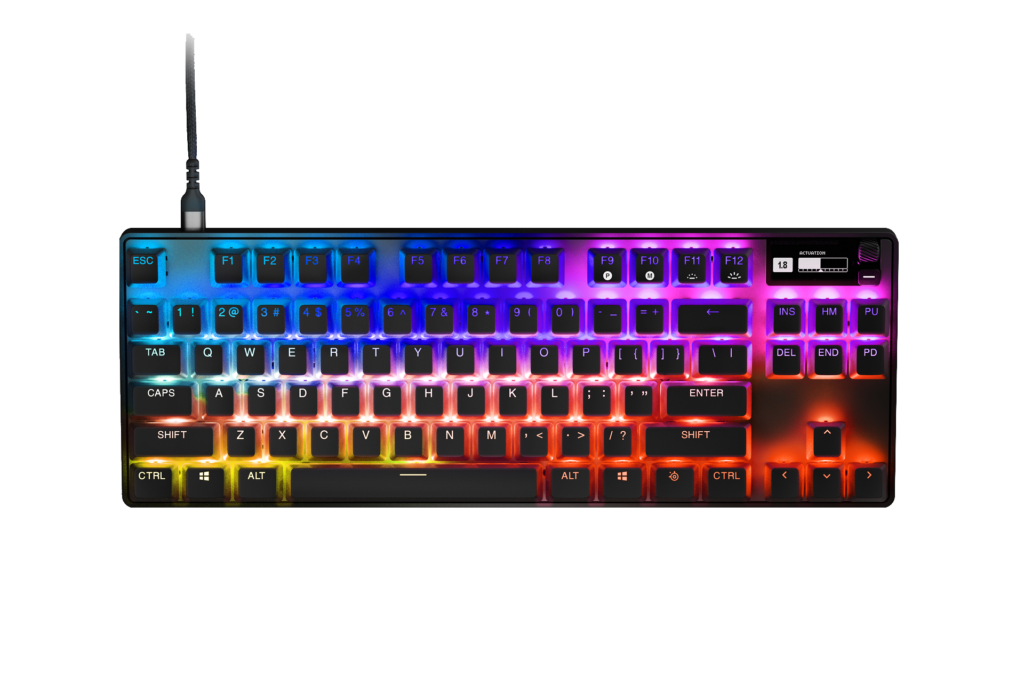 The keys have a really big font, not only for readability but also letting the LED lighting really shine through. This is complemented by the raised keys where the LED can bleed out for some really great illumination. The vibrancy of colors and light on this keyboard are great, without it being blinding. If you decide that you want to clean the keyboard or change the keycaps, SteelSeries have included a hidden compartment where the key puller resides.
There's a small, short roller located in the upper-right hand corner that is used to control the volume. Pressing it results in a satisfying click that instantly mutes audio. The button below it is your basic media functions, where a single press will play/pause the current track, while a double-press will skip the track. It's a neat multi-layered function, but is easy to miss due to it being just a lit-up button. This is a sturdy feeling keyboard, with the marketed "aircraft-grade" metal on the box.
Games
I've been playing a lot of Call of Duty: Modern Warfare II on this keyboard, and there's no input lag or perceived latency when playing. This is bolstered by its CPU, and it feels like that every action I take is fully responsive to me. Being able to configure a slow walk action with a slight press to then sprint with a full press feels like some next-level gaming on PC. I think the best is yet to come with configurations and layouts as more people get their hands on this. I've been getting back into Guild Wars 2, and while I typically use a full-sized keyboard for MMOs and extra actions, I didn't feel hampered in the slightest. I actually felt like I had more options at my disposal over other keyboards of its kind. And again using the dual-actuation, could bind actions to same keys with different presses. It's an incredible feeling.
Software – SteelSeries GG
The companion software that updates firmware and allows you to customize your SteelSeries hardware really feels great. This was my first time using the latest version, simply titled "GG", and it's a clever name for a clever piece of software. It's familiar to what I last remembered, but more performant, and offers a lot of customization. You can do things like make your own OLED graphic using pixel art, or simply use your mouse to give the panel your signature, quite literally. It's also here where you customize the lighting to select different presets, or define your own layout. SteelSeries GG is where you'll define the points of actuation for the keys, from 0.2mm to 3.8mm and everything in-between for 37 different points of command. It's a finite amount of control, but an unprecedented amount you've never had before.
I ended up putting the OLED panel to work by enabling the Discord integration so that it would pop-up notifications when I got new messages. I also activated the System Monitor app which displays temperatures of my CPU and GPU, as well as utilization, speeds, and usage of my CPU, GPU, and RAM. It's an excellent way to monitor performance and heat at a glance without other software or tacky overlays.
Sure the wrist-rest is a dust magnet, the loss of dedicated macro keys is a bummer, and it still lacks better media keys like its predecessor. It's when you consider affordability compared to prior versions, variants, and the competition for the 2023 refresh of the Apex Pro TKL proves to be totally worth it. These OmniPoint 2.0 switches is incredible technology, and SteelSeries have really outdid themselves this time to offer a new way to play games with a keyboard. The SteelSeries Apex Pro TKL (2023) is not the most exciting keyboard out there, but it is compact, innovative, and fast.
The Apex Pro TKL (2023) was provided by SteelSeries for review purposes