Editorial
Dec 29, 2015
Ed Acosta's Top 10 Games of 2015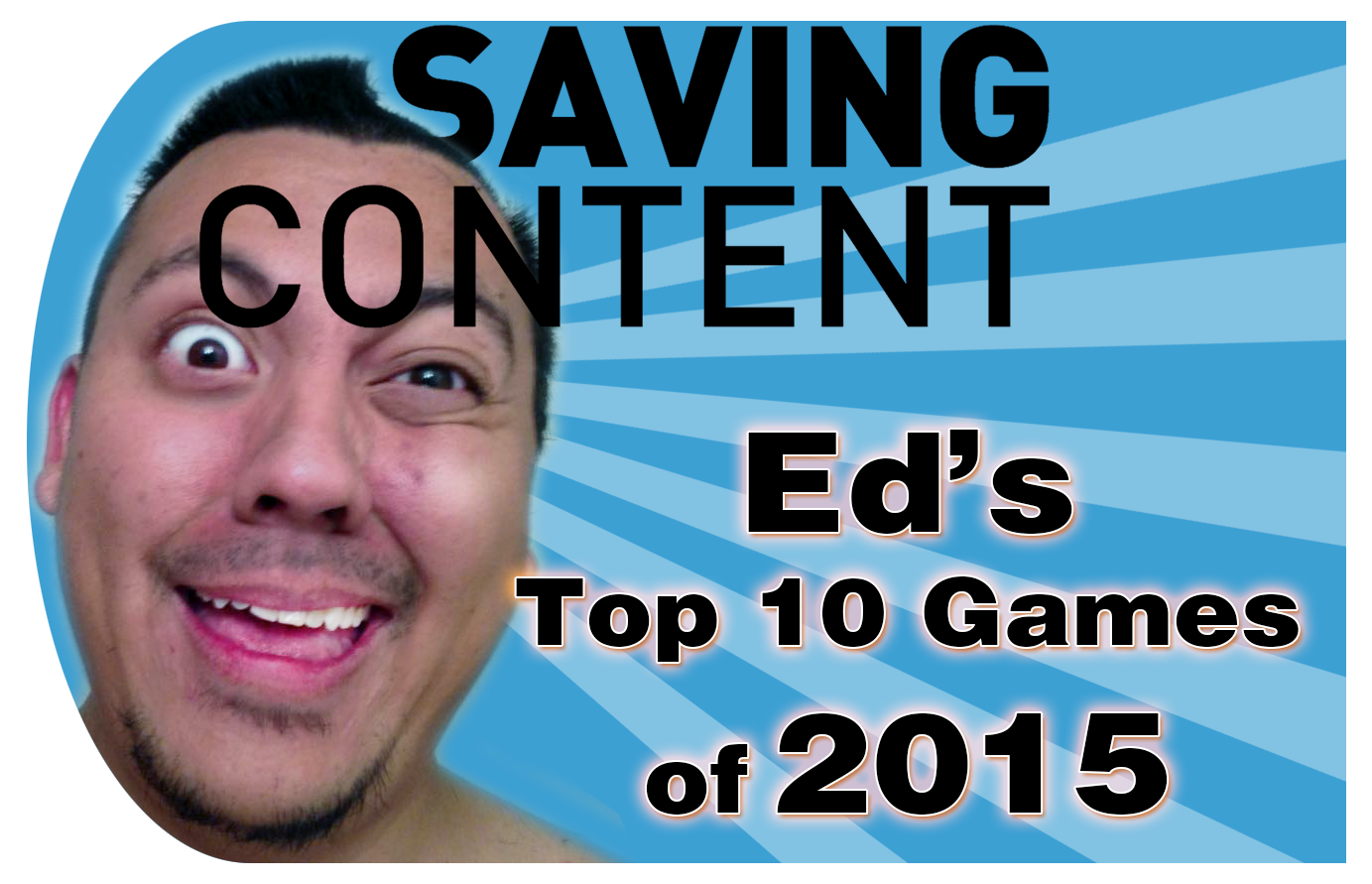 Having a license plate read "TIHSHO" is pretty cool thing when you read it backwards. What's also cool, is how many videogames came out in 2015, so picking only 10 games out of entire year of great games is no easy task. Here's what Ed found to be the best of the year.
10. Guitar Hero Live
A great relaunch of a modern classic. The guitar controller's new buttons really are what made this game appear on this list. Being able to give the player the ability to feel like they're playing a guitar all over again is no easy feat. Now only if they had more songs I enjoyed.
9. Shovel Knight
Sure this technically was on the PC in 2014 but the console releases were this year and just as well done. They even included the some platform specific bonuses and levels. The music was fantastic and the game play challenging. I have no regrets in saving a spot in my top 10 for Shovel Knight.
8. Mortal Kombat X
For about a month the only thing I wanted to play was Mortal Kombat X. Netherrealm hit the mark again with this sequel to Mortal Kombat. The New Kombatants were fun to use and the story was entertaining, it may not have been as good as the last MK game but the story telling is still something other fighting games need to get right.
7. Super Mario Maker
I would not have thought I would get so hooked on Super Mario Maker, but here we are. Being able to create just about any idea you can think of in a Mario setting is good fun. Seeing where people constantly fail has its own morbid satisfaction to it even. Now Nintendo needs to get a Super Mario Bros 2 pack into the game.
6. Forza Motorsport 6
Hands down Forza Motorsport 6 is the best driving game out on the market. The physics are incredible and can be tailored to your play style, cars are customizable, and the graphics are damn near photo accurate. The introduction of the cards this year is a nice refresh to keep things, well, fresh and give you a little more strategy to play out.
5. Metal Gear Solid V: The Phantom Pain
In the first month, if you would have asked me my GOTY it would have been Metal Gear Solid V. What happened though was the changes Konami made after it's release. Making the upgrading harder to do if you played offline and taking access away from your cash while disconnected from the Internet were just two of the reasons why this one made it lower on the list. Other than that the game was fun and magnificent, while the story left a lot to be desired.
4. Batman: Arkham Knight
I'm not a fan of Batman. I think he's ok but I don't go out actively trying to find content with him in it. This game on the other hand, I was looking forward to. The combat and the visuals of Arkham Knight were spot on, but the crazy season pass and the messed up PC port really had this one drop lower and lower on my list.
3. Halo 5: Guardians
Making my way through this list is exhausting, there were so many great games to play this year, and Halo 5 was a perfect example of one. The story picks up from 4 and takes right off leaving you wanting more for Halo 6, and not in the bad way like Halo 2. The new modes were fun to play and the graphics looked amazing on the Xbox One, not that Halo doesn't look amazing every release but it sure looked gorgeous. Let's not leave out the multiplayer either, so many modes and so much fun to be had.
2. Transformers: Devastation
They finally did things right and created an amazing Transforms title. The combat is smooth and the progression is surprisingly deep with all the upgradable weapons. Taking the character action formula that Platinum Games is know for was the perfect match in this game. I just wish they had more Autobots to choose from, hint hint for Devastation 2.
1. Fallout 4
It says something to me that I can sit down with game for 20+ hours straight, have fun with it, and not even progress pass the 2nd or 3rd mission. That's exactly what happened too, I hadn't even made it to Diamond City yet when my hour counter passed into the 20's. The base building is one of the key reasons I stuck around with this game vs Fallout 3 where I blew up Megaton and was done. Fallout 4 improved on Fallout 3 even if you can't tell by the graphics, which only feel like a slight improvement. I love playing Fallout 4 and it's a game that I sit around all day just dreaming about diving back into.