Forza Horizon 4's second expansion takes an unexpected turn into LEGO Valley. LEGO Speed Champions features a sizable map, a small selection of cars that have been LEGOized, and a whole host of challenges and features that breaks the mold of prior DLCs and main game offerings. It perhaps is a bit underwhelming for those who were expecting something else out of this, but there's lots to do and see that'll make you sing "Everything Is AWESOME!!!"
The second, and presumably final DLC for Forza Horizon 4 is LEGO Speed Champions. Taking place in the aforementioned LEGO Valley is a whole new location, transporting you to a somewhat fantastical place. It's rooted in reality, but decidedly LEGO with flora and fauna comprised of bricks we've all come to know and love. The LEGO aesthetic feels a bit off in relation to Forza Horizon 4. While it looks and plays great, it is an odd direction for an expansion — more so than the Hot Wheels expansion for Forza Horizon 3. This is something that quickly faded as LEGO Speed Champions grew on me with each passing minute. The game brings three new cars, one given, and two that must be built: a 1967 Mini Cooper S Rally, Ferrari F40 Competizione, and lastly a McLaren Senna. While these cars aren't "new" to the game, in the sense that their real-life counterparts are already in the game, but the LEGO versions do not.
Among the new is collectibles, beauty spots, and even challenges. The challenges offer something new as they are in a tech tree grid, whereby doing certain challenges unlock the next branch, and so on and so forth. Many of them are very specific, but you'll often complete the more generic ones accidentally. One of my complaints with Fortune Island was that you didn't get a new house. Now, with LEGO Speed Champions you not only get a new house, but you get to "build" it. I put that in quotes, and even though that's what they say, the progression and look of your house is completely predetermined by the game. This is a huge missed opportunity, as you should be able to build your house as you see fit, or more options than what you're given.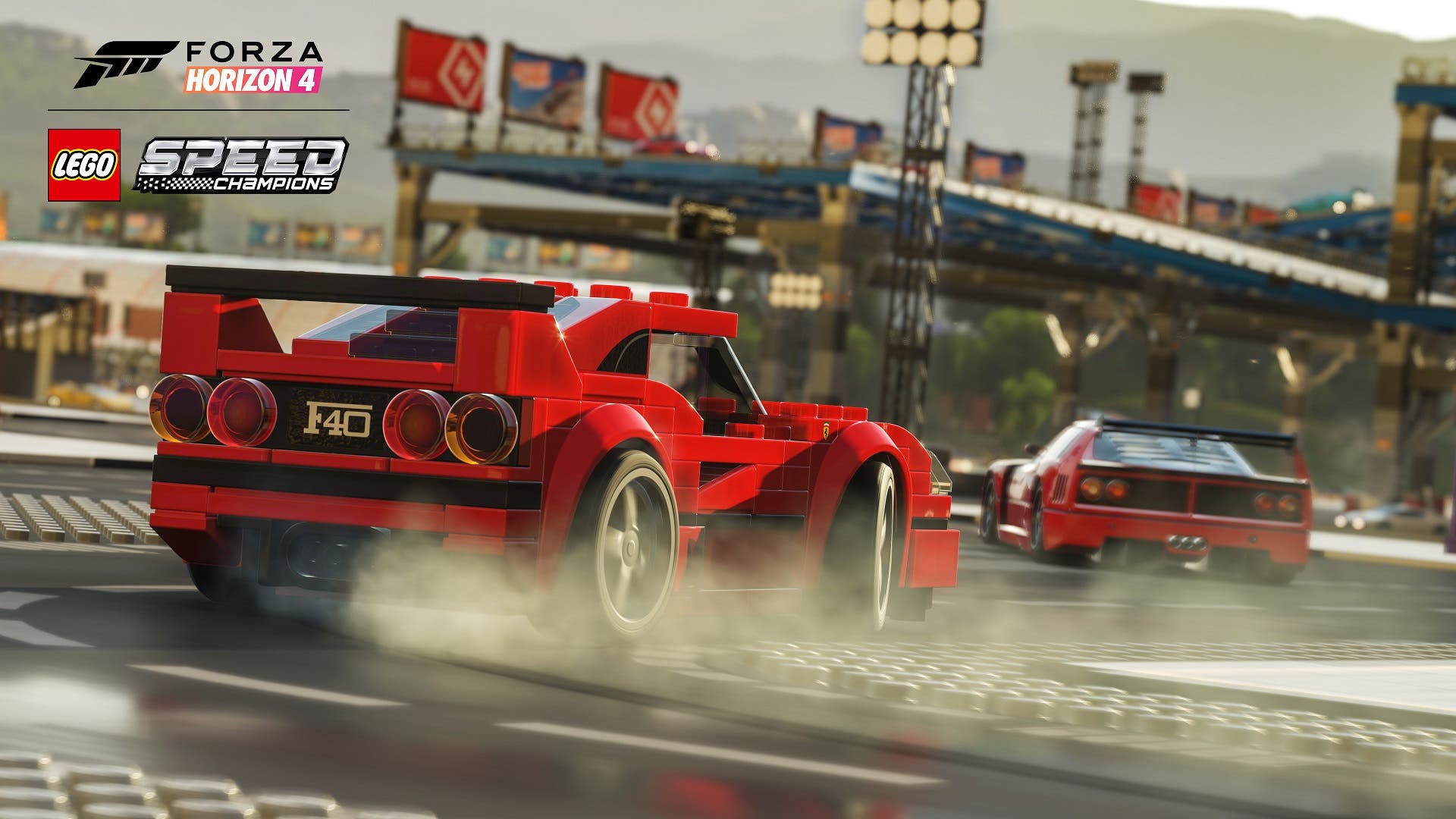 LEGO Speed Champions looks absolutely LEGO, from the trees to the road, it being in crisp and detailed is just awesome to see in motion or standing still. When you run over or crash through blocks, that trademark LEGO sound effect plays, like the ones you'd hear from TT Games. You probably never liked your LEGO pieces to fall over or come apart, but to hear this sound when you are the cause of it, is so cathartic. The only problem with pursuing smashing bricks either to collect the bonus cubes, the physics have a hard time keeping up. I normally get 90-100fps when playing, but when bricks are flying about, does start to drop down to the 70-80fps range. On PC this not an issue, but it does have a performance impact that is more prevalent on the Xbox One.
I love the way progression is handled this time around. Completing races and doing challenges unlock bricks. These bricks accumulate over time. There are certain checkpoints to build and upgrade your house, other times its to unlock the few new cars the game offers. It feels different when compared to the rest of the game, and even other DLCs. The challenges force you into trying new things, and has a lot of specific challenges to focus on. It's staggering how much there is to do with the challenges alone.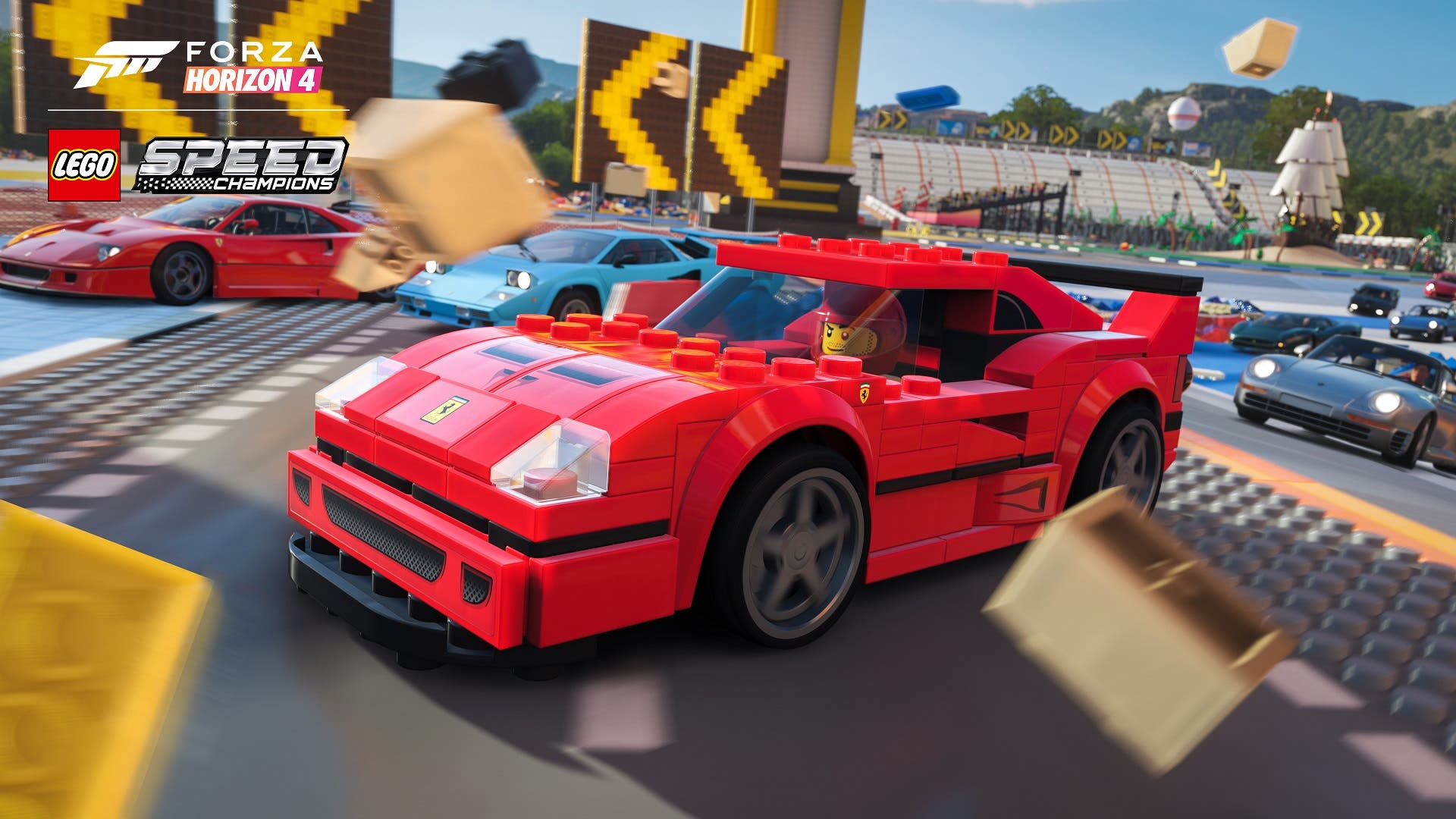 When you drive a LEGO car, your in-game avatar changes from reality-based to the standard yellow LEGO type. It's a nice touch that you wouldn't expect anything less. The interiors aren't as detailed as I was hoping for, but are accurate to what you'd find of a replica car. To my surprise, I found out that you can upgrade any of the LEGO cars with performance and even paint. As the game goes from day to night, even the lights work and it just looks amazing.
There's a big quality of life improvement here, that only applies to the LEGO DLC. You can pin any single challenge to your HUD to track it. I wish this was something you could do in the rest of the game, but I'll definitely take what I can get. LEGO Valley sports some great locations like an actual race track (which is missing from the main game and the first expansion), a stunt park, forest, desert, a small city, and even a pirate lagoon. Whatever Forza Horizon didn't have, now has with this expansion alone. It's a refreshing place to be that feels larger than it is.
This expansion features new races, and PR stunts as you'd expect. I think though that the biggest draw is in the number of challenges, with a whopping 272 of them to do. And they range from simple tasks to a complex ask. Doing them helps facilitate towards the sixteen total house upgrades you get. Lastly, there's a new barn find which I won't spoil, but happens as part of the progression.
The new story chapters for this expansion are really exciting, often pitting the LEGO version of a car against its real-life counterpart. It's never challenging, but it's all about the fun. All throughout this expansion, there's a large focus around the legitimacy and realness of the LEGO cars used. It's a humorous way of going about the LEGO cars' existence in this world.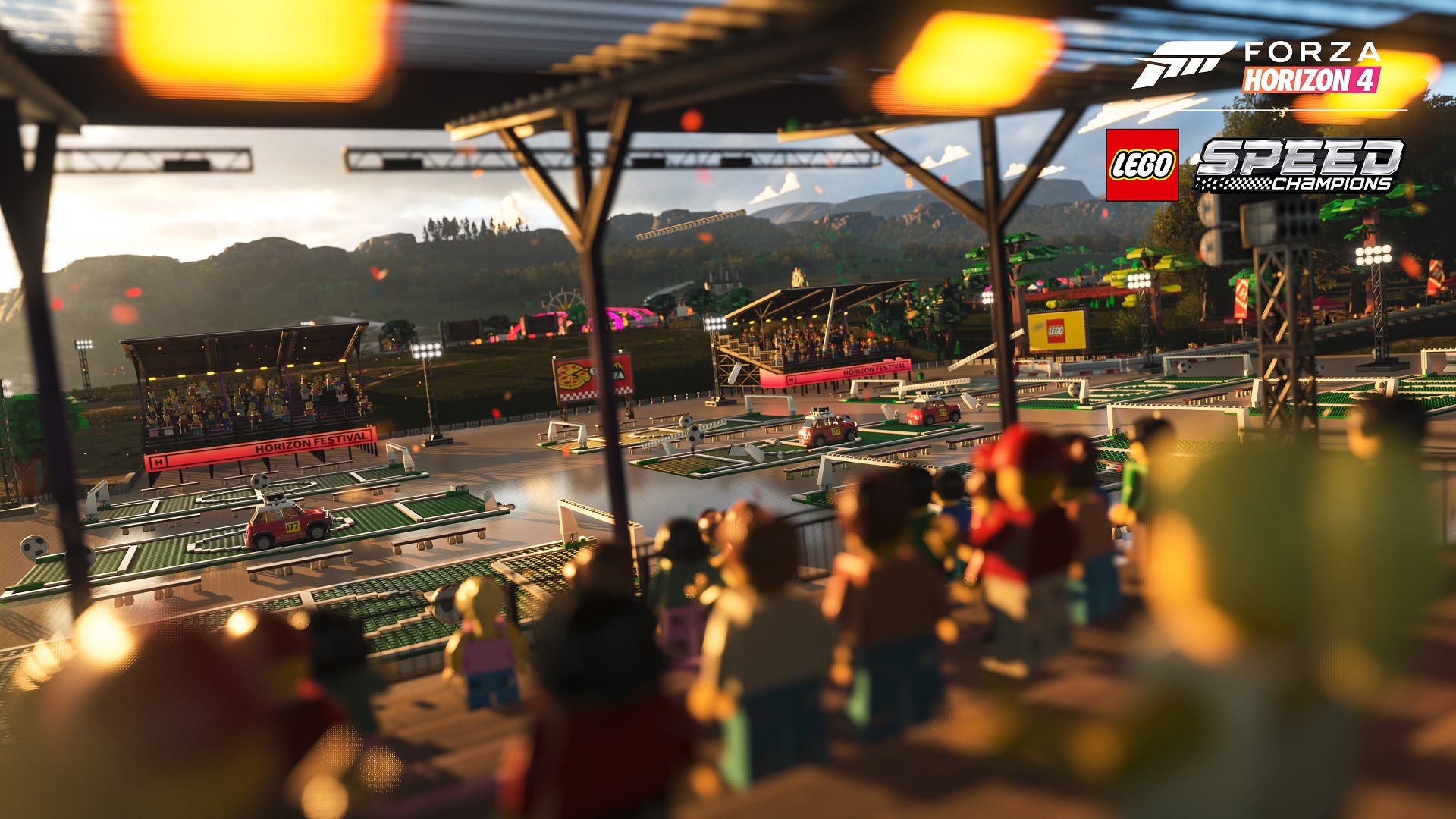 There are unique collectibles this time, where there's bonus cubes scattered around the map, but respawn. In addition, as you progress, you'll encounter aliens and they'll leave behind artifacts. These artifacts have restrictions, like only visible at night or when it's raining. It's a bit defeating when it transitions from night to day, or when it stops raining that the special collectible can absolutely disappear right in front of your eyes.
I want to make a shout out to Radio Awesome, a radio dedicated to LEGO which contains only one song: "Everything Is AWESOME!!!" by Tegan and Sara featuring The Lonely Island. It's a song that quickly turn into an earworm, and good luck getting it out if you forget to change the station after too long. There's no DJ or anything that breaks up the song, it just plays on an endless loop, for better or worse. I'm kind of shocked they couldn't do more with this, but it works from a 'LEGO Movie' perspective that many will enjoy.
There's nothing cooler than seeing a Ferrari F40 re-imagined as a LEGO vehicle that you can not only drive but customize in Forza Horizon 4. In a lot of ways, this feels like a test for Playground Games to do a standalone LEGO racing game someday. As it stands, this is a great expansion for people of all ages, despite how displaced it seems from the rest of the game. LEGO Speed Champions doesn't disappoint in its delivery, but it does feel like it's taken a few missteps in the build process. Ultimately, this is a childhood fantasy come true.
An Xbox One and Windows 10 Ultimate Edition code was provided by the publisher for review purposes