From Press Release:
Wiesbaden, Germany August 26th, 2021. Get ready for some seriously 'shocking' news! Publisher Assemble Entertainment and developer SmokeStab today launched another action-packed Steam Early Access update for their unique 360° rogue-lite shooter Orbital Bullet! The Harvest Season Update introduces a slew of new content "Joule" just love! A gorgeous (and deadly) new planet to explore, four new weapons, five new upgrades, four new skills, and some bangin' new tunes to keep you charged up and ready to dish out some electrified death!
Key Features of the Harvest Season Update Include:

New Weapons: The Charged Laser, Burstgun, Cannonball, and Bouncing Shotgun
New Upgrades: Melee Swing, Long Shot, Hovering, Critical Ranged Attack, and Drone Armor
New Class Skills: The Auto Turret, Deadly Dodge, Rocketeer Jetpack, Boosted Weapon Switch
New Enemy Types: Plenty of new 'shocking' enemies to battle sure to leave players ec-"static" with glory!
While it might look like a great place to host a Tron-themed rave, the planet Talos is anything but a fun place to party. Even the sadistic goons at Dread Corp. won't venture out without protective suits, armor, and robotic drones. However, it's an extremely important planet for any evil corporation thanks to the Harvest Fields. The never-ending lightning storms provide a near-endless supply of energy — which is useful for powering the Neuropods, which Dread Corp. installs in the strongest hosts to create and control new elite soldiers.
Luckily, players won't have to head in under-equipped, thanks to a whole bunch of new weapons, skills, and upgrades. Being on a planet full of electricity is super handy for charging these new firearms, and the Charged Laser, Burstgun, Cannonball, and Bouncing Shotgun can all be powered up by holding the trigger button — making for a larger, messier, and more powerful destructive force!
It's nice to have a better gun, but sometimes combat requires a more tactical approach. The Harvest Season Update comes with five new upgrades, including the distance-increasing Long Shot, the Melee Swing that can stun enemies up close, a damage-reducing swarm of drones, a critical chance increaser, and a hover ability.
But wait, there's more! Four new class skills are also available to players with the new update. The Auto Turret drops a tower that shoots plasma projectiles horizontally at enemies. The Rocket Backpack allows players to charge up a homing missile that seeks out enemies in close range. The Empowered Weapon swap encourages diversity in death-dealing by providing a temporary power boost which increases weapon damage every time the weapon is changed. Finally, the Dodge Attack skill allows players to simultaneously avoid an enemy attack and give 'em what for with a slash of your knife!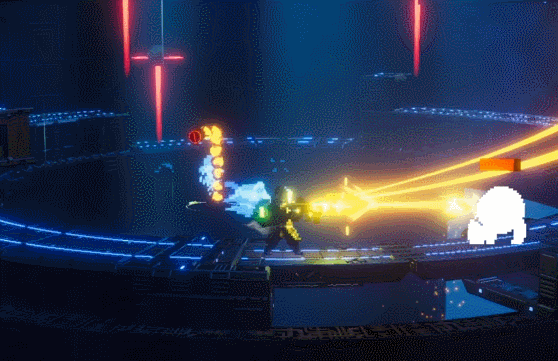 More details about the Harvest Season Update can be found in the Devblog, which also shows some of the concept art behind The Harvest Fields.
Orbital Bullet is currently in Early Access on PC via Steam for £10.29 / €12.99. Stay up to date on the game by following on Instagram and Facebook, and of course, visit the website at https://www.orbitalbullet.com.
Assemble is also offering a special 'Save The World Edition' on Steam for £18.99 / €22.99 that includes the thumpin' official soundtrack. The publisher will make a 10% donation to Ocean Cleanup from every 'Save The World Edition' edition sold.
Throughout Early Access, developer SmokeStab Studio invites players, fans, and all members of the community to join the official Discord to share feedback, gameplay recommendations, content suggestions for new weapons, challenges, bosses, planets, enemies, and more during the pre-launch phase.
If you'd like to chat with a member of the development team to talk about the inner workings of Orbital Bullet or the Harvest Season Update, we'd be more than happy to help out!
-ENDS-