BenQ and their partnership with Major League Gaming has had a cascading effect on all of their products, making their monitors designed for competitive-gaming. This isn't bad, as the result of owning these gaming monitors results in superior performance and visual quality. The RL2455HM is touted as a "RTS Monitor", providing benefits for games like Dota 2 and StarCraft II. While it does make everything on the screen shown with better visibility, this is a gaming monitor that does so much more than advertised, making it for a gem among other gaming monitors that do the same.
Assembly of the BenQ RL2455HM is as simple as you'd imagine, with a weighted and sturdy base that's worth of a mention as it doesn't allow for any kind of wobble. I can't tell you how many monitors I've owned or used that any shake of the table or desk that it is on results on an a disconcerting shaking. There's some simplistic beauty to BenQ monitors, with all black with some minimal red trim. Those looking for height adjustments may need to look at other monitors from BenQ, as this only adjusts in angles forward and back. I found it to be at the right height for my eyes and seating position.
The RL2455HM is a TN-panel display that does 60Hz. It does not offer AMD's FreeSync or NVIDIA's G-Sync technology, but it is a high quality product that is best for the budget-minded gamer than one looking for high performance. The monitor has a 2 HDMI ports, 1 DVI-D port, and 1 D-SUB port for the display. They are all pretty standard expectations of this monitor, and if you have older cabling, there are converters for that..
Upon replacing my existing monitor with the BenQ RL2455HM monitor, it was immediately noticeable the depth of colors and brightness available. Though the blacks seemed washed out. By default, the monitor uses the "RTS1" preset. "RTS2" is similar in muting the blacks, but does different things. There are other display modes, and even custom ones you can save to. Everything else with the menus and options are open for your customization. The buttons I found to be a bit mushy with each press, but you'll be hardly using them after getting your configuration correct
The BenQ RL2455HM Gaming Monitor comes with some basic 2-watt speakers to output audio, but you likely already have a headset or speakers that can do so much better. Just the fact that it is included at all, allows for edge-case scenarios where you'll need it, and it's there for you. This monitor can also be used for console gaming, making for more of a reason for it to have speakers.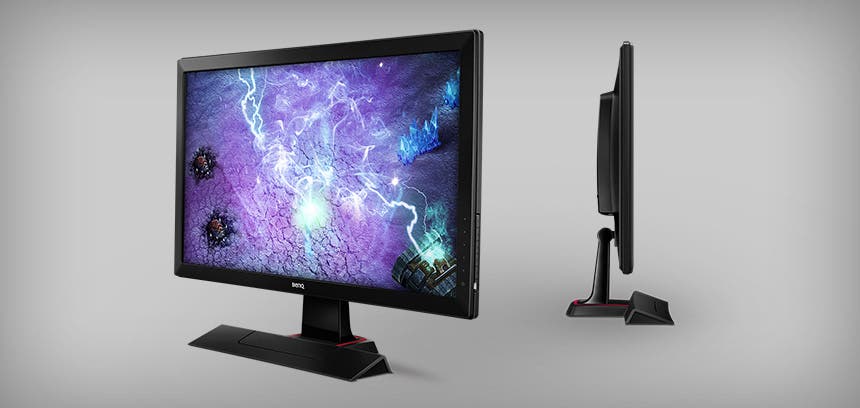 Performance of the RL2455HM does not fail. Whether it be watching videos, playing games, or look at photos, the monitor is able to show vivid and varied colors. There's not even a semblance of lag to be found, and with a 1ms response time, good luck finding it. The RL2455HM also features technology that eliminates flicker, and while I couldn't tell, eyestrain from my normal monitor dissipated using this one instead.
Yes, this is a monitor for RTS gamers, but what about those who play racing games, first-person shooters, or other types of games? Rest assured, this monitor will enhance any game you throw at it. I noted improvements in Tom Clancy's Rainbow Six Siege, DiRT Rally, and Dying Light. It provides clarity that was simply missing with the monitor I was using before, and colors popped vividly. Though you'll be best to switch to sRGB or Photo mode for the best viewing as to avoid muting the blacks from the aforementioned "RTS" mode it advertises.
The BenQ RL2455HM gaming monitor is one that's easy on the wallet. The price shouldn't dissuade you from a purchase (depending where you purchase from), there's a lot of quality to be found here for a 24-inch monitor to provide 1080p and 60fps gaming with little to no lag, and lack of motion blur. BenQ's RL2455HM is a modest gaming monitor that has a focus on RTS, but doesn't keep other genres from looking their absolute best.
A hardware review unit was provided by the BenQ for review purposes.