It has felt like wait for a new keyboard ROCCAT has been years in the making, and while partially true, they did release keyboards early last year. But the time spent in the incubator has done wonders, because the Vulcan II Max is everything I want out of a keyboard and more. This full-size, 100% keyboard is a USB-connected command center at your fingertips. It consolidates where it makes sense, and the new two-LED is the most informative tool in gaming. The ROCCAT Vulcan II Max doesn't mess around, and it goes for the jugular on the competition.
While not much has changed from the Vulcan II Mini that released a few weeks ago, it is literally and figuratively bigger and better. Those who prefer a full-size keyboard will be in-love with everything this is and does. Though I'll say having the Mini for so many weeks, then getting the Max right after makes the keyboard seem gigantic, and it is. Weighing in at 1300 grams with the wrist rest attached, is nearly three times the Mini is. What they share is 100 million keystrokes, 32-bit ARM Cortex M3 Processor, and dual-LED lighting that is still a world's first feature not seen anywhere else.
This is some truly next-generation lighting here, it's so smooth and reactive. The two-LED linear switches never drown each other out, and are truly separate from one another so that it doesn't ruin the theme you've set. This is where AIMO learning lighting continues to impress, offering color transitions that do not repeat. I could talk about the two-position feet, but the most noticeable aspect of this whole setup is the soft rubber wrist rest. The keyboard has LEDs that shoot out the bottom where the wrest rest snaps into place with ease, and is lightshow that will get everyone's attention.
While this is a full-sized keyboard, there's many keys that feature multiple functions. These muti-function keys give an impressive amount of control and depth to an already amazing keyboard. The possibilities you have at your disposal are nearly endless. I really like the multimedia section, a series of flat keys for previous track, play/pause, and next track are accompanying by an appropriately sized volume dial. I'm actually surprised the volume dial doesn't have any lighting to match. The multimedia keys are a standard inclusion, and anything less would be missed.
The default keycaps included with the Vulcan II Max are low profile, which maximize the lighting that it so brightly exudes off of this keyboard. Though it does support custom keycaps, allowing you to swap out to your preferences. It also has onboard memory of 4MB, or about four profiles to store without the need of software.
Returning to the dual-LED thing once more, at a glance, I'm able to monitor GPU, CPU, and RAM temps and usage or see the battery of my headset. The number of smart keys under different functions thanks to Easy-Shift[+] is incredible. Now being able to answer calls on Discord is no doubt cool, I was actually surprised to be able to control the muting and unmuting of my HyperX Quadcast S microphone. It never ceases to amaze, and it's clear I've not unlocked its full potential.
This being a standard keyboard does have its own challenges to overcome. While the sheer number of options and alternate functions are exciting, executing most of them requires pressing the Function (Fn) key and then traveling to them to press. They shouldn't be meant for quick-actions in competitive shooters, but for MMOs and third-person action games, there's wiggle room without such urgency. Like its little sibling, the Max is also really easy to clean, with being able to remove the keycaps with ease and even using compressed air to clear out any hair or foreign objects with little to no effort.
Games
Let's talk about games. The keyboard can accommodate anything you throw at it. I can't tell you how great it is to kickoff macros for World of Warcraft, centered in the extra or editing key section. Then for first-person shooters such as Battlefield 2042 or even something retro like CHASM: The Rift just feels like home. I also played the Warhammer 40,000: Darktide Closed Beta, and I always felt in control, with the keyboard never moving or slipping during swarms of enemies attacking my group.
Swarm (Software)
While the AIMO lighting is beneficial with so many zones and options with things like the wrist rest, the importance within the app is important as ever with how luminous it is. And then you've got the general options which are standard fare like repeating characters and whatnot, but key assignment takes center stage. Because of the multi-function keys, I can now assign or re-assign functions like hotkeys for profiles, opening the app, recording, etc. There's so many great opportunities to fine-tune what you want the keyboard to do, it's staggering.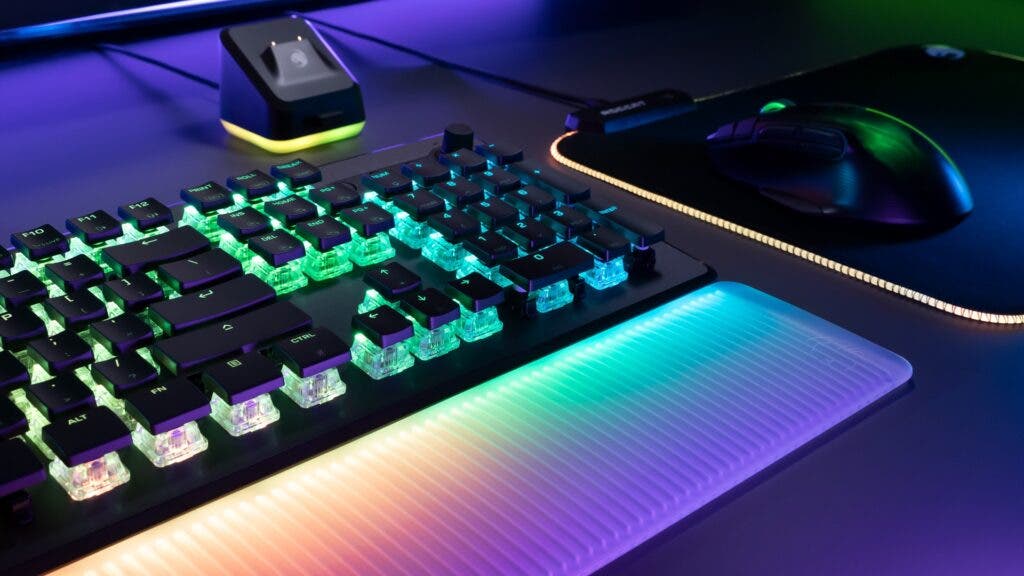 While you get more than what you'll find from other manufacturers, this one's priced lower than the rest, making it real attractive atop it's gorgeous aesthetic. The Vulcan II Max is an impressive keyboard and if you care about RGB lighting, this is the lightshow you've been waiting for. It's also a workhorse for gamers and multi-taskers, able to do so many things that will make life easier. The ROCCAT Vulcan II Max is informative, versatile, customizable, and most of all: really smart – it's the greatest keyboard ROCCAT has produced yet.
The Vulcan II Max was provided in advance by ROCCAT for review purposes