Monoprice released the Dark Matter Arcade Fighting Stick over a year ago, and I'm now taking a look at it after being sent a review unit. Arcade games are rather nostalgic at this point, and esports fighting tournaments utilize them heavily. The Dark Matter Arcade Fighting Stick provides an authentic arcade feel for fighting and retro game purists, enthusiasts, and even casual enjoyers alike. The combination of precise controls and nostalgic design elements make for a truly remarkable experience.
The Dark Matter Arcade Fighting Stick has a sleek and minimalistic design. It's not flashy or overly colorful like some other arcade sticks on the market, which can be a good or bad thing depending on your personal taste. The stick features an aluminum alloy frame with acrylic finish for the surface. The Sanwa eight-way joystick and eight Vewlix-style buttons feel incredible, with their throws feeling satisfying tactile with each button press. Weighing in at 7.7 lbs, this is a hefty and sturdy fighting stick that won't slide around, even in the thickest of fights.
The stick and buttons are exceptionally responsive and built to last. The Sanwa Denshi buttons and joystick provide that authentic arcade feel, giving you the tactile feedback and precision needed for intense fighting games. These components are known for their durability and precision, ensuring you're always in control of your character's moves. The button layout is comfortable and reminiscent of classic arcade cabinets, making it easy to transition from an arcade setup to the Dark Matter stick. Plus, it has a non-slip base, so you won't have to worry about it shifting around during those intense matches.
I tried the fighting stick in a variety of games, and not only did it feel great, it performed admirably with almost no setup in every instance. While not a game released into arcades, playing Teenage Mutant Ninja Turtles: Shredder's Revenge felt like I was ten again, plunking quarters into machines at Aladdin's Castle. Then I loaded up some older games like TEKKEN 7 (hey, TEKKEN 8 isn't out yet) and Street Fighter V (I don't have Street Fighter 6 at this time), and both felt fantastic. Then I played Mortal Kombat 1 , and it wasn't long before I got used to the layout and was executing fatalities with ease. I did load-up some games in emulation and older titles on PC like Metal Slug 3 , and again, works like a charm. Monoprice couldn't make it any easier.
One standout feature of the Dark Matter stick is its turbo function. With the touch of a button, you can enable rapid-fire for specific inputs, giving you a competitive edge in certain games. This is especially useful for executing those hard-to-perform moves, making the Dark Matter stick a valuable tool for competitive players.
The stick also has a lock switch, which can be useful for preventing accidental button presses during gameplay. This feature is particularly handy in intense fighting game tournaments or casual matches with friends. The overall design and sturdiness of the arcade stick make it easy to take to gatherings, tournaments, or simply use at home. It's a great addition to any gaming setup, whether you're a professional competitor or just want to relive the arcade experience from the comfort of your home.
The Dark Matter Arcade Fighting Stick offers impressive compatibility. It's designed to work seamlessly with a variety of platforms, including PC, PlayStation, and Xbox. Whether you're a PC gamer, a PlayStation fan, or an Xbox enthusiast, this arcade stick has you covered. The plug-and-play functionality makes it easy to set up and start playing immediately.
While you can't detach the USB cable, it can be stored in a compartment that folds down. It's also here you'll find a screwdriver and additional cables in which you can customize this to heart's content. You can even provide custom artwork for the faceplate, replacing the default Dark Matter design provided by Monoprice.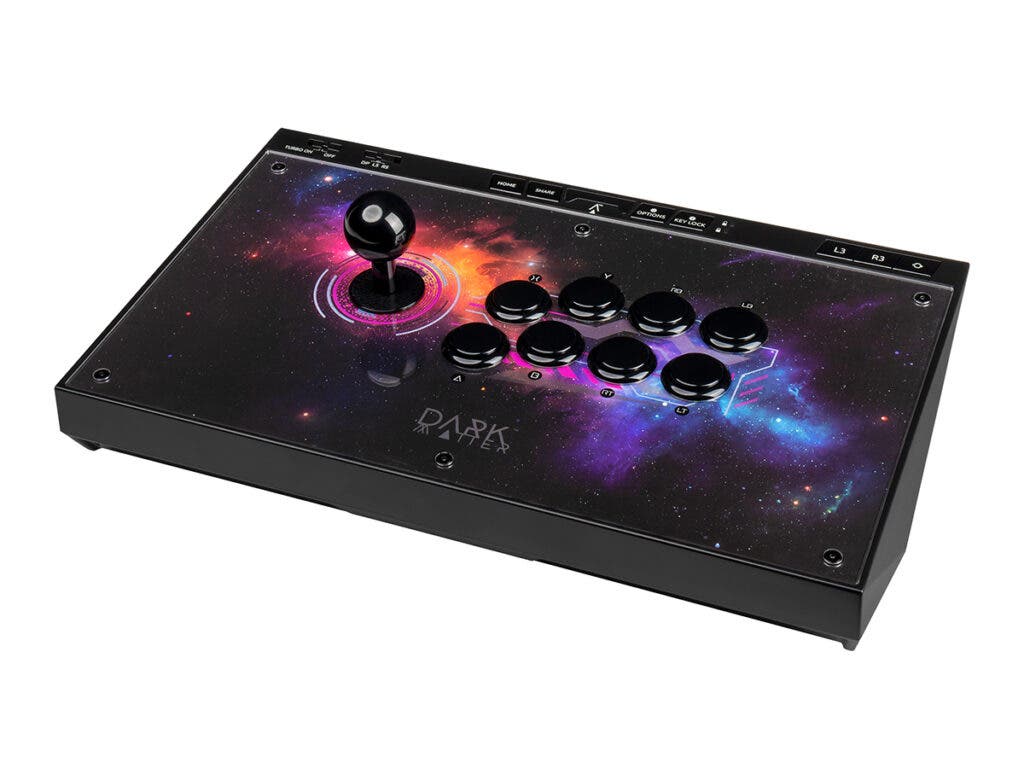 The Monoprice Dark Matter Arcade Fighting Stick is a true masterpiece of gaming hardware. It combines a premium design, impeccable build quality, and outstanding performance, all while offering a high degree of customization. It being cross-platform makes it so it goes where your games are, not the other way around. Whether you're an experienced player or a newcomer to the fighting game scene, the Dark Matter Arcade Fighting Stick is a must-have addition to your gaming arsenal.
The Dark Matter Arcade Fighting Stick was provided by Monoprice for review purposes